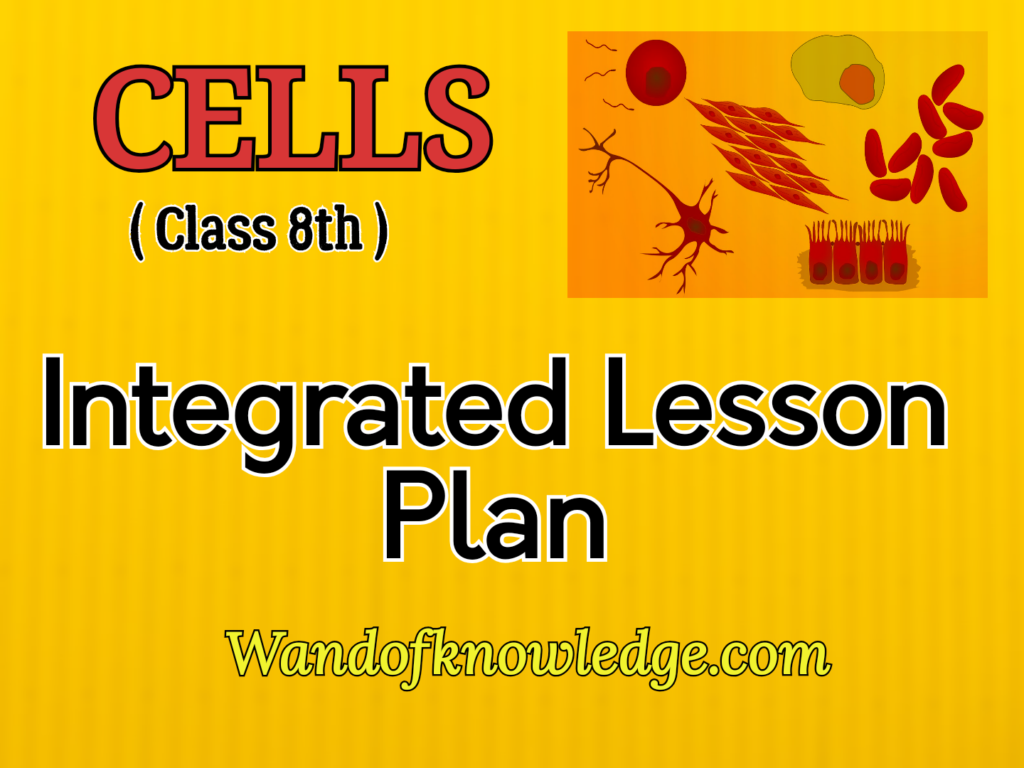 CELLS- INTEGRATED LESSON PLAN
GENERAL AIMS
To develop interest of students in biological science.
To develop an inquiry spirit in the students.
To help students to see the biological science in relation to the rest of the culture.
To develop interest in questioning.
To develop critical thinking and scientific attitude.
To develop supervisory ability in students.
To develop problem solving skills in students.
To make the students aware about inventions in the field of biological science and acquaint them with the knowledge of different streams of biological science.
SPECIFIC OBJECTIVES
Students will be able to define the term cell.
Students will be able to describe various types of cells.
Students will be able to differentiate between unicellular and multicellular.
TEACHING AIDS
Chart, Roller board, pointer and other useful classroom equipments.
PREVIOUS KNOWLEDGE
Students are already aware about the building block or structural unit of a building.
INTRODUCTORY QUESTION
| | |
| --- | --- |
| PUPIL-TEACHER ACTIVITY | STUDENT's RESPONSE |
| Q1. Where do we all live with our family? | House, building |
| Q2. What is the structural unit of house/ building? | bricks |
| Q3. Likewise, what is the structural unit of body? | Cell |
STATEMENT OF AIM
So, today we are going to study the topic 'Cell'.
PRESENTATION
TEACHING POINT 1:

DISCOVERY OF CELL
Robert Hooke, for the first time observed cells in the cork of the bark of a tree under the microscope.
He observed partitioned boxed which appeared like honey-comb.
Robert Hooke, coined the term 'cell' for each box.
TEACHING POINT 2:

DEFINITION OF CELL
Cells are the basic structural unit of the living organism.
Cells in the living organisms are complex living structures.
TEACHING POINT 3:

VARIETY IN CELLS
Organisms show variety in cell number, shape and size.
Number of cells- Different organisms have different number of cells, they are categorized into following:

Unicellular- Organisms which are made up of only single cell are called unicellular. E.g. Amoeba

,

Paramecium
Multicellular- Organisms which are made up of more than one cells are called multicellular. E.g.

Humans, trees, animals, etc.
A single celled organism performs all the functions that multicellular organisms perform.
Shapes of cells- Cells are present in various shapes. Cell wall is an additional covering over the cell membrane and gives shape and rigidity to cells.
Shape of cells could be:
Irregular: E.g. Amoeba
Spherical: E.g. Red blood cells
Spindle shaped: E.g. Muscle cells.
Long & branched: E.g. Nerve cells.

Size of cells- Size of cells in living organism may be of few microns or as large as few centimeter. However, most of the cells are microscopic and are not visible to unaided eyes.
Size of the cell is related to its function. For example- nerve cell in elephant and rat both are of same shape and perform same function.
BLACKBOARD SUMMARY
Cell is the structural unit of an organism.
Robert Hooke coined the term 'Cell'.
Organisms according to number of cells are- Unicellular & Multicellular.
Shape of cell are- irregular, spherical, spindle shaped, long & branched.
Size of cells- mostly microscopic but vary in different organisms.
CLASSROOM SUPERVISION
Pupil-teacher will supervise the problem of the students and solve it.
EVALUATION QUESTIONS
Q1. Structural unit of an organism is called ________.
Q2. Term 'Cell' was coined by ________.
Q3. Cell is present in various shapes and size. (True/False)
Q4. Amoeba is a multicellular organism. (True/False)
Q5. _________ gives shape and rigidity to cells.
HOME-WORK
Q1. Draw different cells having different shape and give example of each.
Q2. Describe in details how cell shows variety in cell number, size and shape.
You may also like
Disclaimer: wandofknowledge.com is created only for the purpose of education and educational sector. For any queries, disclaimer is requested to kindly contact us. We assure you we will do our best. We do not support piracy. If in any way it violates the law or there is any problem, please mail us on wandofknowledge539@gmail.com